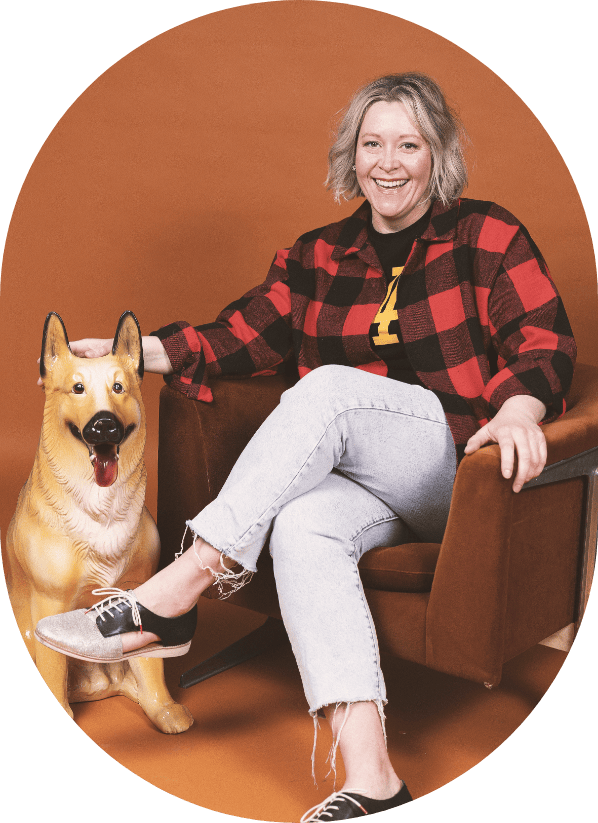 Get to Know
About Andrea
Actor, comedian and the co-founder of Australia's longest-running program of refreshingly honest, bold, and brutally frank live storytelling.
Andrea Gibbs has been at the forefront of autobiographical storytelling on stage in Australia for over a decade. Director, curator and storytelling coach at Barefaced Stories she's helped thousands of people bring their chaotic humanity to the stage to be embraced by audiences across the world.
Originally hailing from Donnybrook, Western Australia – Andrea has been described as 'the quintessential cousin from the country' (The West Australian).
She presents Weekends with Andrea Gibbs on ABC Radio Australia-wide every Saturday after Roy & HG. She has been a guest speaker at TEDxPerth and Marieke Hardy's Women of Letters. And you would have heard her voice on many an ad campaign, including Squarespace and Dairy Farmers.
Her debut play, Barracking for the Umpire produced by Black Swan State Theatre Company (2022) was published by Playlab and received critical acclaim. It is one of three new Australian works to have been selected for the Australian Theatre Festival in New York City, 2023.
A Jill of all trades, storytelling is at the core of it all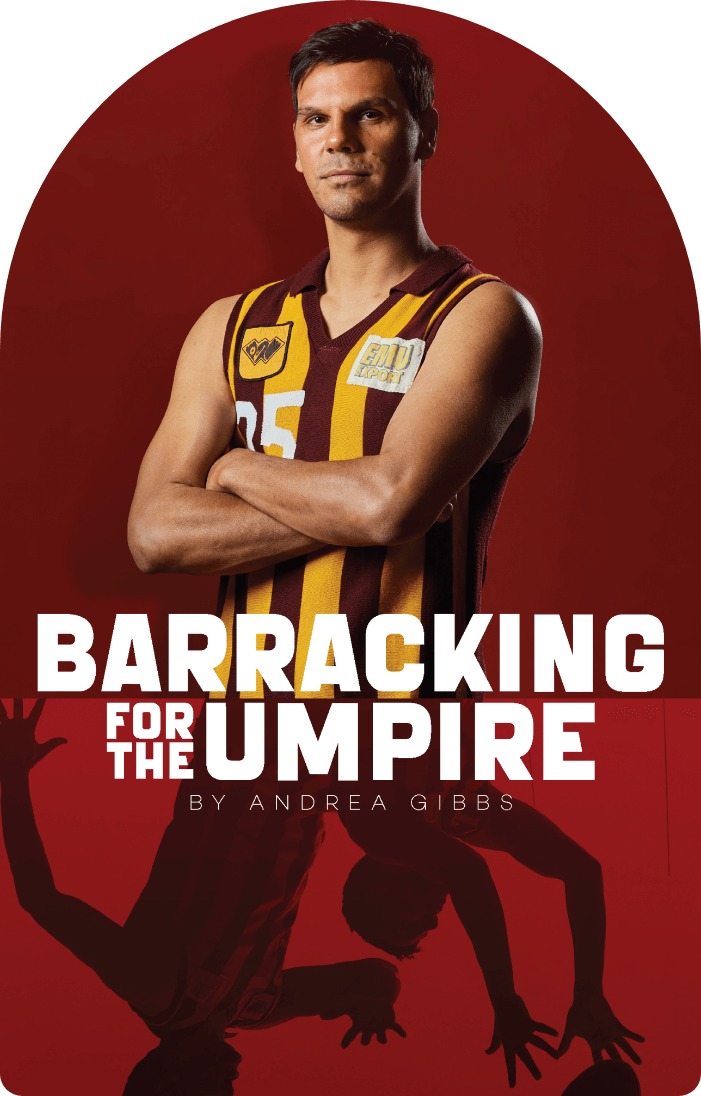 About 'Barracking for the Umpire'
Andrea Gibbs' Barracking for the Umpire tackles blokes and their vulnerability, the fragility of the human body, and the impacts of brain injury on ourselves, our family, and our community.
Set in regional Western Australia, Barracking for the Umpire deals with chronic traumatic encephalopathy (CTE), toxic masculinity and its impact on the well-being of men in Australia, and homosexuality in AFL, through the story of the failing health of one family's patriarch.
PRODUCTION HISTORY
Barracking for the Umpire was commissioned by Black Swan State Theatre Company as part of the Funny Girl Initiative through the Malcolm Robertson Foundation. The first draft of the script impressed then Artistic Director Clare Watson so much, it was programmed into their season and premiered at Subiaco Arts Centre in October 2022 to much acclaim.
It is one of three Australian works to be invited to the Australian Theatre Festival in New York City, 2023.
Learn more about Barracking for the Umpire.
"Andrea Gibbs's play perfectly encapsulates the good, the bad, and the ugly of the AFL" – Pelican Magazine ★★★★★
"What a win! Perth audiences should get excited to see what she writes next" – The West ★★★★1/2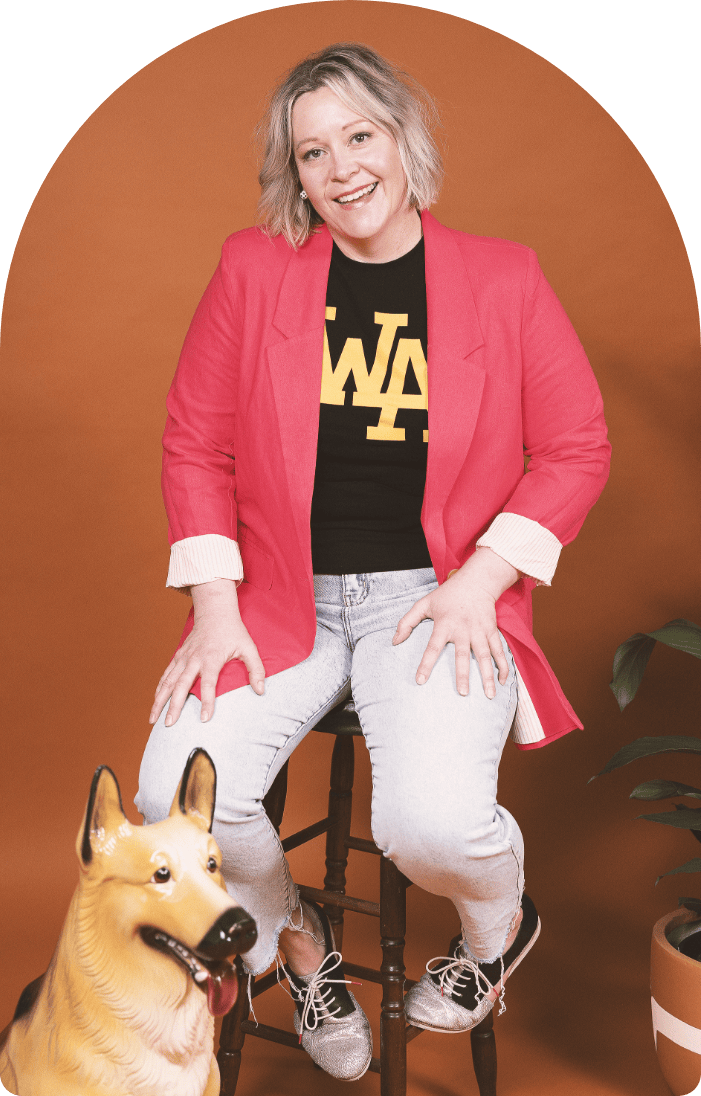 Story
Development
Andrea helps people to be seen and heard through storytelling. Which is no mean feat in a world which sometimes feels divisive and isolating.
Andrea's work expands beyond the boundary of a single skillset. Not only a director and curator of stories but also a writer, a radio presenter and producer, a performer and a comedian, her mastery of so many artistic abilities make her an incredibly valuable Australian artist. Someone that makes every project better.
How you can use her talents to bring out the best stories you have:
Story mentor
Workshops
Spit balls ideas
Feedback & editing
Andrea can teach you how to burn new pathways into your brain to become a better storyteller. Whether you are working on a personal story, a script or narrative project – to find out how she can help – get in touch.
"Gibbs is a rare talent. In person – incredibly funny and down-to-earth with no pretence or artifice. Like most great artists, she makes it look easy but there are years of training and exceptional acumen at reading a room behind her performance" – Iain Grandage, Perth Festival
Testimonials
What
People Say
I've been watching Andrea Gibbs for years, with delight and awe. She is one of those rare creatives who can make you laugh with her comedic brilliance, break your heart with her dramatic work and sit in awestruck wonder at her storytelling ability – often all in the same show! She is a brave and brilliant artist with an astounding work ethic
Andrea is so empathetic. She never judges. She naturally feels the emotions of others, making her finely attuned to the world around her. She works her instinctive curiosity into everything she does. Her acting, her work with storytellers, and interviewing people. Because she is both quick to laugh, and makes others laugh, she creates a warmth with everyone she meets
Andrea Gibbs has become the linchpin of Perth storytelling. She has created and cared for an entirely novel platform that champions diversity and connection at a time when we've needed it most. Andrea shepherds this space with tenderness and professionalism. She is hilarious, honest, bold and insightful and as well as this, she has magnified her gifts. She has helped Perth come to know and love itself more deeply. We wouldn't be the same without he
During my time as artistic director of Perth International Arts Festival, we invited Andrea Gibbs to present Barefaced Stories as a part of the Perth Writers Festival. I subsequently had the great opportunity to speak at a Barefaced Stories event in Tasmania. On both occasions I was struck by how smart, powerful, and empowering it was as a format: significantly simpler and slightly less virtuous than a TED talk, but with more gravitas and weight than an open-mic stand-up set. It is a truly democratic and empowering medium, and I very much look forward to seeing what Andrea will be able to make of it, if she has time and resources to invest
A very, very clever woman
Andrea Gibbs has a unique ability to make anyone feel like they have an important story to tell. This makes anyone, of any age or life experience, feel valued. Her work with young adults in their performer training continues to be critical in developing their skills in the foundations of story. Her work with communities, from the Chin Wagon, to The Story Exchange, Barefaced Stories in WA and across Australia, encourages people to have the courage to tell their story. This is a gift that far outlives the length of a workshop or a night at the pub. That lesson in courage lasts a lifetime.
HER WORKS
Current Works & Past Projects
Andrea's future, past and present projects
The Fire Project (with support from MFI)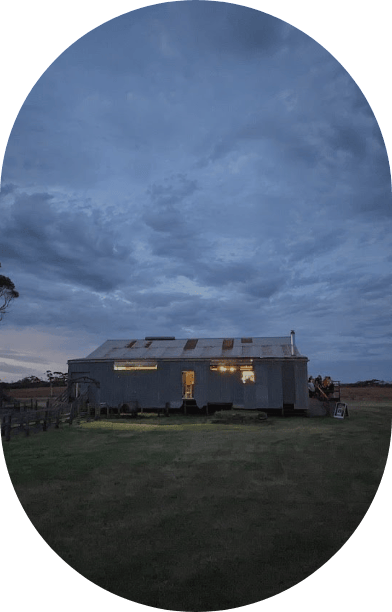 The Fire Project (with support from MFI)
A brand new audio work that highlights the impact fires have on regional communities, livestock and the environment.
The Chin Wagon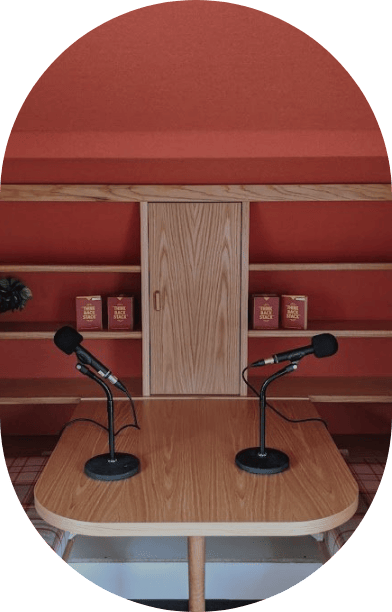 The Chin Wagon
The Chin Wagon, a mobile recording studio that can travel to regional WA or beyond, gathering more stories that are uniquely Australian.
"The Chin Wagon initiative is typical of Andrea's vision and capacity to make things happen. As an object the Chin Wagon is of curse charming and irresistible in itself and the notion of travelling and collecting regional and suburban stories"
– Jim Cathcart, board member WA Chamber of Arts and Culture, The Last Great Hunt, and Art On The Move
Objects In The Mirror Are Closer Than They Appear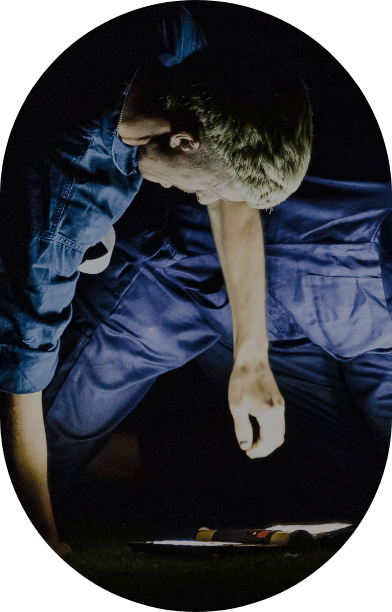 Objects In The Mirror Are Closer Than They Appear
Objects In The Mirror Are Closer Than They Appear was created by the Bachelor of Performing Arts Second Year Performance Making students in collaboration with the Director, Andrea Gibbs, drawn from their own stories and experiences and performed at locations around Kings Park from 11-14 November to a select, in-house audience.
Earshot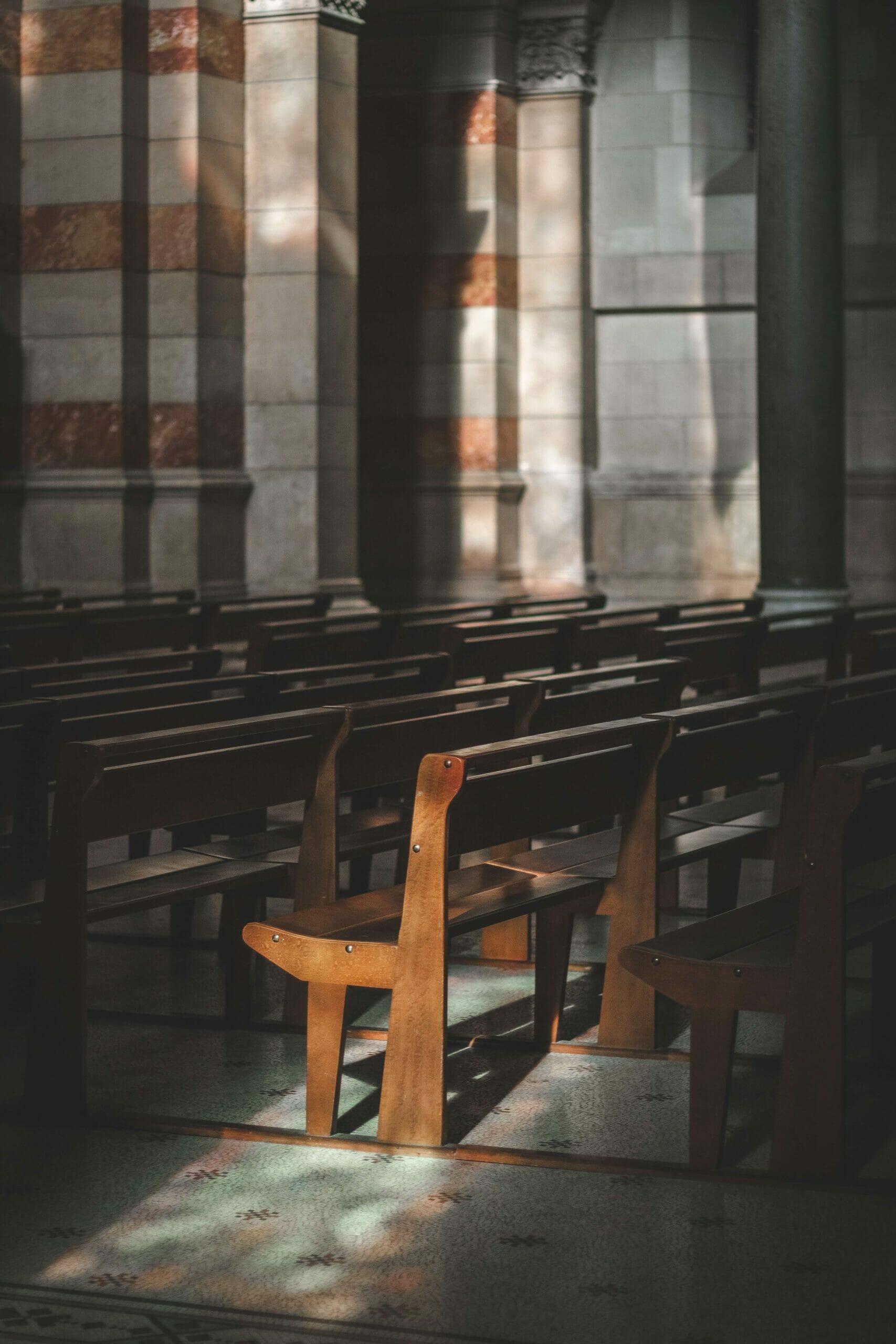 Earshot
Andrea produced 'A Promise Renegotiated | For the love of God' – the sotry of Charlotte & Casey re-negotiating their marriage for RN Earshot.
MOST ASKED QUESTIONS
Frequently Asked
Sure does. You can find more info on those right here.
Yes. Contact her below and give her all the details.
Easily. She offers feedback over the phone/Zoom and can edit scripts too.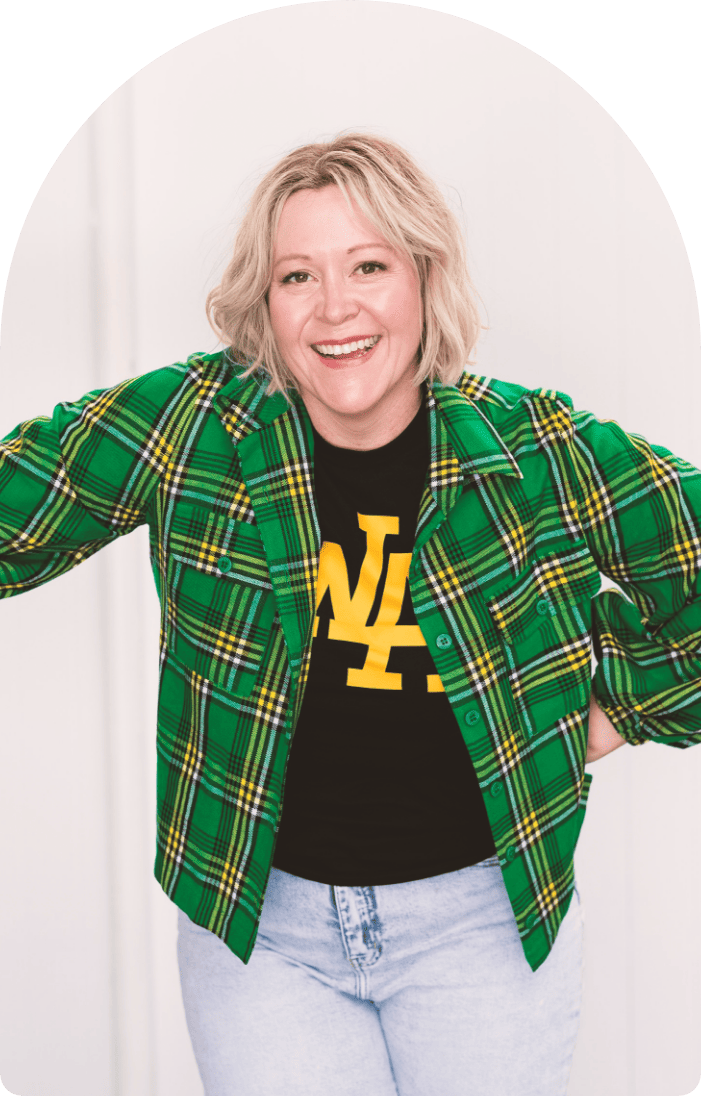 LET'S CONNECT
Get in Touch
To get in touch with Andrea directly fill out the form below. To reach her agent for acting enquiries please use the details in the footer.